氧传感器原理及其重要性 Oxygen sensor principle and importance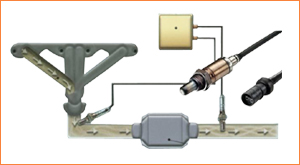 在使用三元催化转换器以减少排气污染的发动机上,氧传感器是必不可少的元件。由于混合气的空燃比一旦偏离理论空燃比,三元催化剂对CO、HC和NOx的净化能力将急剧下降,故在排气管中安装氧传感器,用以检测排气中氧的浓度,并向ECU发出反馈信号,再由ECU控制喷油器喷油量的增减,从而将混合气的空燃比控制在理论值附近。
电喷车为获得高排气净化率,降低排气中一氧化碳(CO)、碳氢化合物(HC)和氮氧化合物(NOx)成份,必须利用三元催化器。但为了能有效地使用三元催化器,必须精确地控制空燃比,使它始终接近理论空燃比。催化器通常装在排气歧管与消声器之间。氧传感器具有一种特性,在理论空燃比(14.7:1)附近它输出的电压有突变。这种特性被用来检测排气中氧气的浓度并反馈给电脑,以控制空燃比。当实际空燃比比理论空燃比高或低时,排气中氧气浓度的增加或降低数值通过氧传感器以电势或电流信号通知ECU。
氧传感器是利用陶瓷敏感元件测量各类加热炉或排气管道中的氧电势差或氧电流,由电化学原理计算出对应的氧浓度,达到监测和控制炉内燃烧空然比,保证产品质量及尾气排放达标的测量元件,广泛应用于各类煤燃烧、油燃烧、气燃烧等炉体的气氛控制。它是目前最佳的燃烧气氛测量方式,具有结构简单、响应迅速、维护容易、使用方便、测量准确等优点。运用该传感器进行燃烧气氛测量和控制既能稳定和提高产品质量,又可缩短生产周期,节约能源。
The engine which use catalytic converters to reduce exhaust pollution, oxygen sensor is an essential component. As soon as the mixture of air-fuel ratio deviation from stoichiometric, ternary catalyst on the CO, HC and NOx purification capacity will drastically decrease, and installed in the exhaust oxygen sensor to detect the concentration of oxygen in the exhaust to the ECU send feedback signal, and then controlled by the ECU Injector volume change, which will control the mixture air-fuel ratio near the theoretical value.

EFI car in order to obtain high exhaust purification rate and reduce emissions of carbon monoxide (CO), hydrocarbons (HC) and nitrogen oxides (NOx) components, must make use of ternary catalysts. However, in order to effectively use the ternary catalyst, must be accurately controlled air-fuel ratio, it is always close to the theoretical air-fuel ratio. Catalytic converters are usually installed between the exhaust manifold and muffler. Oxygen sensor has a characteristic, the output voltage have mutation near the theoretical air-fuel ratio (14.7:1). This feature is used to detect the concentration of oxygen in the exhaust and back to the computer to control the air-fuel ratio. When the actual air-fuel ratio higher or lower than the theoretical air-fuel ratio, the exhaust oxygen concentration increase or reduce the value of oxygen sensor to notice ECU by potential or current signals.

Oxygen sensor is measurement devices which used measure heater or exhaust pipe of oxygen current or electrical potential difference using various types of ceramic sensor, calculated oxygen concentration by the principle of corresponding electrochemical, to monitor and control the combustion air-fuel ratio, and ensure product quality and exhaust Emission Standards, widely used to control furnace atmosphere in various types of coal combustion, oil combustion, gas combustion. It is the best way of measuring the combustion atmosphere, has a simple structure, fast response, easy maintenance, easy to use, measuring accurate. Using the sensor tomeasure and control combustion atmosphere, both stabilize and improve product quality, and reduce the production cycle, saving energy.