安装说明 Operating Instructions
a.安装位置要求
在传统的发动机管理系统中,仅有一只氧传感器,称控制氧传感器,安装在三元催化器的上游位置。较新款的车配有诊断氧传感器,安装在三元催化器下游端。主要原因是控制氧传感器因老化,其向ECU输送的电压信号曲线会发生偏移。诊断氧传感器会检测控制氧传感器是否仍然处于最佳工作状态。然后ECU就可计算出矫正偏移所需的补偿量。
控制氧传感器应安装于可以代表所有汽缸排出废气状态的位置附近。此处各个气缸排气气流混合均匀,避免只探测到发动机某单一汽缸的废气氧浓度,从而影响整个系统对发动机实时燃烧状态作出正确判断。为了使系统在冷启动时尽快进入闭环控制,传感器应安装在离发动机排气歧管出口较近、气流温度较高的位置。
诊断氧传感器的理想安装位置推荐在三元催化器下游外壳的延长管上且距催化器载体后端面100—300毫米以内。当催化器与排气消音器之间带有装配法兰时,为了防止因联结法兰漏气造成错误判断,应将传感器布置在三元催化器一侧联结法兰上游。

b. 安装要求
在安装/旋入传感器时不要扭曲线束,不要用力拉电缆和插头。
为使氧传感器功能正常,保持插头内部的清洁至关重要。因此防止插头受到任何污染十分重要。
氧传感器的装配位置选择应注意避免路面砂石直接冲击或飞溅到氧传感器的外壳及传感器的线束上。
氧传感器安装方向应尽可能减少冷凝水在传感器头部附近聚积,避免排气中冷凝水损坏氧化锆元件。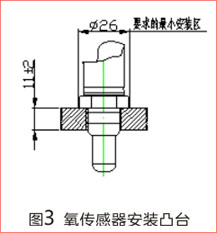 c. 安装凸台要求:
装配凸台材料:不锈钢
凸台最小外直径:不小于26 毫米
凸台推荐最大厚度:不大于13毫米(9-13毫米之间为佳)
螺纹孔尺寸:M18 x 1.5 - 7G
螺纹质量:表面应无毛刺,砂眼,或其他任何可能影响安装和拆卸的缺陷
安装表面平面度为0.2,表面粗糙度为Ra3.2,表面对安装孔心的垂直度为0.2

d. 装配注意事项:
传感器安装扭矩:40∼60 Nm
安装新传感器:氧传感器在安装螺纹处已涂抹好润滑脂且备有一个保护帽。仅在安装前才能拆下保护帽。
重新安装传感器:用合适的装配粘合剂涂抹螺纹。注意:勿使装配粘合剂与保护管接触。
在安装/旋入传感器时不要扭曲线束。不要用力拉电缆和插头。
如果插头很脏或损坏,不得使用传感器。
用电缆捆扎带将过长的连接电缆扎成圈形。
a. Installation location requirements
There is only one oxygen sensor in the conventional engine management systems, it is called controlling oxygen sensor and installed in the upstream position of the three catalytic. And the more new automobiles assembled with diagnostic oxygen sensor installed in the downstream of the three catalytic .Because of the controlling of the oxygen sensor is easy to aging and the voltage signal will shift .The diagnostic oxygen sensor can detect whether the oxygen sensor is in top working condition or not,then the ECU can calculate the correct amount of compensation which will be required to offset.
The controlling oxygen sensor should be installed in the state which can replace all position of the cylinder near the exhaust. Here each cylinder exhaust air mixing, it can avoid detecting only a single cylinder engine exhaust oxygen concentration which affect the whole system to make the right judgments on the engine combustion state time. In order to make the system start into the closed-loop controlling as quickly as possible, the sensor should be installed in the position where it closer to the export and the temperature is more higher.
The ideal installation location of the diagnosis oxygen sensor is recommend to install the catalytic converter downstream of the extension tube shell and the vector from the catalytic converter is within 100-300 mm . When the flange is assembled between the catalytic converter and exhaust silencer, the sensor should be arranged in the side of the three catalytic converter in order to assemble the upper flange , to prevent misjudgment because of the gas leakage of coupling flange.

b. Installation requirements
 Do not twist/install screw sensor wiring harness, do not pull cable and plug.
 It is very important to maintain the cleanliness of the inside plug in order to make the function normally of the oxygen  sensor, so it is important to prevent the plug pollution.
 The assembly position options of oxygen sensor should be wary of the road gravel or fling directly to the oxygen   sensor and wiring harness on the case.
 The oxygen sensor should be directed to minimize condensate near the sensor, and to avoid zirconia components  damaged by the exhaust condensate.

c. Installation requirements of lug boss
 Assembly materials of lug boss: stainless steel
 The smallest outer diameter of lug boss:not less than 26 mm
 The maximum thickness of lug boss: not more than 13 mm ( preferably between 9-13 mm)
 The size of tapped hole:M18 × 1.5 – 7G
 The quality of screw thread: the surface should be no burr, trachoma, or any other defects that may affect the    installation and removal
 The flatness of mounting surface is 0.2, the roughness concentration of surface is Ra 3.2, the surface to the heart of  the vertical mounting holes is 0.2 degree

d. Assembly notes
 The mounting torque of sensor: 40~60 Nm
 Installation new sensor: The oxygen sensor has good grease and smear with a protective cap before installed    thread department. Just remove the protection cap before installation
 Reinstallation sensor: Applying appropriate assembly adhesive to smear the screw thread. Attentin: Do not allow   the protection of the contact assembly adhesives
 Do not twist wiring harness when installation or screwing in sensors. Do not pull the cable and plug
 If the plug is dirty or damaged, do not use sensors
 Using the cable tie to tie the long connecting cable to circle