(1)产品种类与应用
目前,公司已成熟定型的传感器产品,按结构形式可分为管式与片式两大类,或分为单腔型与多腔型,按工作原理分为电势型、电流型以及电势-电流混合型(又称广域或宽域型)。
其中,管式电势型传感器(加热棒功率9-11W) 在350℃以下工作时,其响应时间低于200ms、跃迁电势高于800mV,完全满足QC/T 803.1-2008标准的相关指标,性能接近甚至优于国外著名B、D、N产品,远优于其它类似国产产品的关键性能。
公司开发的管式与片式电流型、宽域型传感器产品已在环境微氧监测领域获得成熟应用,宽域传感器在重卡柴油机上进行了严格的台架实验,灵敏性和耐久性能与国外著名品牌产品相近。宽域传感器可应用于以汽油、乙醇、天然气及其混合物以及柴油为燃料内燃机汽车。
公司开发的多腔体氮氧传感器(电流型)已通过了严格的抗热震、抗机械冲击、抗老化试验评价,具有响应时间短(350℃工作下低于150ms)、监测范围宽(NOx浓度范围20-800ppm)等优点,与国际著名的GS、GC、UC等品牌产品性能相近,目前该款产品正进行台架试验。
氮氧传感器是国Ⅳ或欧Ⅳ排放以上柴油机必须装配的发动机关键部件。
此外,公司还开发了电流型氧化锆氧泵,可用来制备高浓缩氧气,适合为家庭与个人、医疗卫生场所提供纯净氧气,满足保健与急救需求。
Product Type & Application
At present, our mature sensors can be divided into thimble oxygen sensor and planar oxygen sensor according to tube structure, or into a single cavity and multi cavity, according to the working principle into potential type, current and potential - current Mixed type (also known as wide range type).

Among them, the thimble type potential sensors work (Heater power 9 ~ 11W) when temperature less than 350 ℃, its response time less than 200ms, the transition potential higher than 800mV, fully meet the relevant indicators of QC / T 803.1-2008 standard, performance close to even better than the famous foreign B, D, N product, far superior to other similar domestic products.

Developed thimble & planar type current, wide range oxygen sensor products are well applied for the field of micro-oxygen environment monitoring, wide range sensor was strictly tested in the heavy duty truck testing bench, sensitivity and durability are similar to international famous brand products. Wide range sensor can be applied to gasoline, ethanol, natural gas and fuel mixture and diesel engine vehicles.

Developed multi-chamber nitrogen oxygen sensor (current type) has passed the strict thermal shock, mechanical shock, anti-aging test, a short response time (lower than 150ms under the work temperature 350 ℃), wide scope of monitoring (NOx concentration range of 20 ~ 800ppm), etc, performance are similar with international famous brand GS, GC, UC and other brands products, currently being carried out on testing bench. Nitrogen-oxygen sensor is the key components which Euro Ⅳ and high emission diesel engines must be fixed.

In addition, we has developed a current-type zirconia oxygen pump which can be used to prepare the high concentration of oxygen, for family and personal medical and health sites to provide pure oxygen to meet the needs of health care and first aid.

(2)产品检测与认证
Product testing and authentication
氧传感器怠速波形性能测试曲线:
Idling speed oxygen sensor performance test curve: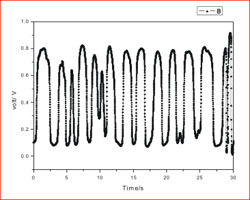 电势跃迁范围在90毫伏到840毫伏之间,波峰及波谷杂波较少,低波峰波较少。传感器的电势跃迁:≥800mV;传感器起始工作温度:≤350℃;响应时间:≤200ms(300mV-600mV;600mV-300mV);
Potential transition range between 90mV to 840 mV, the peak and trough less clutter, fewer low-peak wave. Sensor potential transitions: ≥ 800mV; sensor initial temperature: ≤ 350 ℃; response time: ≤ 200ms (300mV-600mV; 600mV-300mV);

(3)客户群体 Customers
目前公司的烟道与微氧传感器产品已为除华东以外的中国大陆地区的大型火电厂、炼油厂、冶炼厂配套,一直占有该领域60%以上的市场份额.2008年下线的汽车氧传感器已为国内XD、JN两家整车厂配套,并大批量地为北京公交系统配套使用,在北京、天津、深圳、武汉、厦门等城市的零配件市场销售,并出口亚洲与南美洲,产品质量获得了客户的广泛好评。宽域传感器和氮氧传感器正提供给主机厂进行台架试验,有望在2011年为柴油发动机及相关整车厂配套。

At present our flue and micro-oxygen sensor products have supplied to large-scale thermal power plants, oil refineries, smelting facilities besides the East of China, has been in possession of the field more than 60% market share.
The auto oxygen sensor off the assembly line in 2008 has been supplied for the domestic two OEMs XD, JN, and large quantities were used on public transportation system in Beijing, sold in Beijing, Tianjin, Shenzhen, Wuhan, Xiamen and other cities of the spare parts market, and exported to Asia and South America, product quality was widely acclaimed by customers.
Wide range sensor and nitrogen-oxygen sensors are available to OEMs for bench test, expected for the diesel engine and associated vehicle factories in 2011.